Expat guide for Living in Cambodia
If you're
thinking about expatriating, it's a pretty big decision. It's important to not
only to find a new place to live, but to educate yourself about the best ways
to adapt to the new culture. In addition to learning about the new
country and its customs, expats need to know how to handle day-to-day life in a
foreign country. You need to understand how to communicate with local
people, how to get around the area, and what resources are available to you.
Here is a list of expat guides for living in Cambodia which are well written
for you as an expat to learn more about Cambodia.
How do you greet someone in Cambodia?
In Cambodia, there are two ways of greeting someone, which are formal and informal way. If you want to greet someone, you might say "Chum Reap Sur" with Sampeah gesture by placing your both hands together in front of your face, and slightly bow your head, and it's a very formal way, which is generally used to show warmly welcome and respect to other people. You can just greet someone by bowing your head down to show respect and politeness without having a word, but it's an informal way of greeting.
There are five situation of greeting in a formal way that you should know to avoid any confusion.
Formal ways of greeting called "Sampeah" for travelers before visiting Cambodia:
Lift up your both hands together at chest level and bow your head. Normally, this Sampeah is used to greet someone of the same age.
Put your both hands together, and they should be pressed together below your mouth level, to greet your boss or people who are in higher status or older than you.
Put your both hands together and in exact the same level of your nose, to show respect to your parents, and to greet your older relatives and teachers.
As you already know, Cambodian people are kind of believed in spirits, and most of them are Buddhist, so they are showing great respect for monks and the king. Greeting monks and the kings differ from greeting people who are older than you or at the same age as you. Just know that, by greeting monks and the king, you should put your both hands together and placing them at eyebrow level, also don't forget to slightly bow your head down.
Last but not least, the highest position of Sampeah is when you are at sacred places like in the temples or when you pray for God to protect you, your family, and the whole country. Cambodian people place their both palms together at forehead level when they pray for god or when they are at the sacred places.
As one of Cambodian people, I know that many people are still confused with the hands gestures when greeting someone that you meet for the first time or people who are older than you. Many people in an attempt to be so polite have shown too much confusion by giving the greet of monk level to normal people. These actions are considered to be embarrassed, but still people should be cleared of Sampeah gestures. Please be well-considered before starting your Sampeah gestures to greet someone.
Sampeah is not only used to greet people, but It's simply used to say thank you or apologize. Doing Sampeah is to show respect and politeness, without doing Sampeah is like a way of expressing an impolite and informal greeting to people in Cambodia.
Informal greeting in Cambodia for traveler should be aware of before visiting this kingdom of wonder.
1. Shaking hand
Shaking hand is not a formal way of greeting in Cambodia. It's just like a foreigner greeting style, but we Cambodian don't mind this gestures. This gesture is acceptable, and we really appreciate their respect and politeness. We will be highly appreciated more if foreigners greet us by doing Sampeah gestures because it indicates their understanding of the country's customs.
Related: Do's and Don'ts in Cambodia?
2. Nod and smile
Nod and smile are also one of an informal way of greeting, but you can do this greeting in some special cases. For street vendors, children, and strangers, they sometimes don't need you to do Sampeah gestures, you can just smile and nod a little to express your greeting, respect, and politeness to them.
3. Saying hello (Sur Sdey)
By saying hello or Sur Sdey in Khmer is also an informal way of greeting. You can also say hello or Sur sdey with a little smile to show your greeting if you don't have any ideas of doing Sampeah gestures towards Cambodian people.
Cambodia is a country that has the amazing culture and many historical places. Cambodian people are friendly, and kind towards everyone, and we will warmly welcome all of travelers and respect them as brothers and sisters.
How Long Can You Stay in Cambodia on a Tourist Visa?
Cambodia is home to Angkor Wat, the world's most visited tourist attraction. There is, however, more to Cambodia than Angkor Wat; there is more to do and see. Prasat Thom, a seven-tiered pyramid structure, is located north of Siem Reap, deep in the forests of Koh Ker. Preah Vihear Temple, located on the cliffs on the Cambodia-Thailand border, is another outstanding Khmer masterpiece.
Aside from historical relics, the unique cityscape of Phnom Penh, incredible floating villages on Tonle Sap Lake, and stunning nature in the remote countryside are all worthwhile explorations. If you like the beach, there are several beaches and islands to choose from. You may be wondering how long you will stay in Cambodia on a tourist visa with so many beautiful scenic spots to visit.
Related: Can foreigners work in Cambodia?
On a tourist visa, how long will you stay in Cambodia? A tourist visa usually allows you to remain in Cambodia for a maximum of 30 days, with the option to extend your stay. Also, keep in mind that a tourist visa is only valid for one entry. Visitors from ASEAN countries, including Brunei, Indonesia, Laos, Malaysia, Philippines, Singapore, Thailand, and Vietnam, do not need a visa to enter Cambodia for a stay of 14 to 30 days.
You have three options for obtaining a Cambodia visa for travel. Most travelers may get it on the spot or apply ahead of time online. Some tourists must apply for a visa in advance at their home country's Cambodian embassy.
Fill out an application for a Cambodia E-Visa for Tourism: Visitors who are eligible for a Cambodia tourist visa on arrival can also apply in advance online at Evisa.Gov.kh. For tourism purposes, it provides for a single entry and a maximum stay of 30 days. In addition, an online visa application costs $36.
Obtain a Tourist Visa for Cambodia Upon Arrival: Visas are available at the international airports in Phnom Penh, Siem Reap, and Sihanoukville for the majority of tourists to Cambodia. Visas are available at International Checkpoint Borders for overland travel from Thailand, Vietnam, and Laos. You don't need to do something ahead of time to apply for a tourist visa at the Cambodian airport. Fill out an immigration card on the plane. To wait for your visa application, arrive with your immigration card, a passport that is valid for at least six months, and cash in US dollars.
Visit the Embassy of Cambodia to obtain a tourist visa for Cambodia: Afghanistan, Algeria, Arab Saudi, Bangladesh, Iran, Iraq, Pakistan, Sri Lanka, Sudan, and Nigeria are among the nationalities that must apply for a visa in advance at the Royal Embassy of the Kingdom of Cambodia in their home country. The tourist visa costs $30 dollars and can be obtained at the nearest Cambodian embassy. It's worth noting that Nigerian people can apply for an e-visa online with a minimum of 20 working days' notice. It is all up to you.
It is possible to prolong your stay in Cambodia on a tourist visa. And your tourist visa can only be extended once for an additional 30 days for a fee of $30 to $50 dollars.
Where should I stay in Cambodia?
Accommodation in Cambodia is generally excellent value, available in a range of guesthouses and hotels (note that many places which call themselves guesthouses are actually more like small hotels). Most places are functional concrete boxes, rather lacking in character, although a few livelier establishments geared towards Western backpackers can be found in the major tourist centers.
Without having any idea of your interests, it's difficult to make any worthwhile suggestions about areas to visit in Cambodia. If you'd like to come back to the forum with a bit more information, together with the length of time you plan to visit Cambodia, then we can make some suggestions. In the meantime it would be useful for you to do some research to see what you may like to see and do.
1. Farm Stay
Farm Stay is a good option for those who want to be surrounded by nature during the course of their stay in Cambodia. Located outside the city, provides guests a great view of the mountain. Note that the room offered has no air conditioning system, although it comes with a fan to keep guests cool while there. The farm stay has a barbecue. Breakfast is already included in the rates. The host family also offers dinner to their guests. Those who want to experience how the locals live can do so here in Real Home Stay, which is located 3 kilometers (1.8 mi) away from Siem Reap. Don't worry about the distance though since you can rent a car at the homestay. The family provides guests information about the customs, traditions, and history of Cambodia, stories which you may not be able to hear if you stayed in a conventional hotel. Note that this accommodation has no air conditioning system. A mosquito net is available on-site to keep guests protected from getting insect bites. Complimentary pickups from the airport and shuttle services are offered by the homestay to guests. Rates include breakfast.
2. Hotel
Hotel is an accommodation that provide you joyful and safely with comfortable swimming pool under the warm weather, restaurant with cheap price and healthy, especially some hotel is more attractive with sky bar and gym club. After wake up from the whole busy day and see the sunshine in the morning such a best atmosphere and great relaxing.
3. Guest House
Guest House is also a place with acceptable price. Almost tourism choose guest house as their best place for traveling. You can stay only one day or 2-3 hour then you can continues your enjoyable with the precious place.
Which is the best time to visit in Cambodia?
It's worth taking a look at the weather patterns to assess when to visit Cambodia. The best time of year to visit Cambodia depends on what you intend to do during your travels and if you want to try and avoid the rainy season.
If you are deciding when to go to Cambodia, it's good to know that there is really no wrong time to visit. Cambodia is warm all year, but it has a monsoon climate that creates two distinct seasons, rainy and dry. However, the dry period is split into two, hot and cool. Although the temperature is hot all year round.
It can still be worth visiting Cambodia during the rainy season. The scenery can be stunning. Mornings are usually dry, and the rain falls mainly in the afternoon. There are generally still windows of bright sunshine and clear sky
In September and October, the rain can be more substantial and more consistent. It's naturally much quieter, making this the best time to visit Cambodia for some. Travelling by road can be impacted during the rainy season as flooding is a possibility.
Cambodia's dry season runs from October to April, when the dusty northeast monsoon arrives. Blowing like a hair-dryer set to high, the northeast monsoon dries out the country fast. While November and January are quite cool (high C20s) by April. As the country dries out, badly rutted roads get graded and trip times improve dramatically, though they get incredibly dusty. Cambodia's beach strips at Kep, Sihanoukville and Koh Kong bask in brilliant sunshine with clear calm waters — if you're a beach bum, dry season is the season for you.
If you wish to visit Angkor Wat during Khmer New Year, It is the best time you must, but weather quite hot during this season of April. Temperatures are known to hit more than 40°C Despite this, April comes with a sense of celebration because it is the month of Khmer New Year. While the exact dates vary, every year falls on April 11, 12 and 13 – with April 14 being observed as an additional public holiday. Escape the heat with a trip to Kirirom. About 1.5 hours from Phnom Penh, Kirirom is home to sprawling pine forests where the temperature dips a good few degrees lower than in the city.
What should you not wear in Cambodia?
Right off the bat, what to wear in Cambodia may seem like a ridiculous question. After all, you're there for a great time as a visitor. Shorts and tanks tops all the way right? Wrong. As with any other country, you should always be aware of cultural differences and the norms of dressing and behavior before you visit. While it is not wrong to wear what you choose, you stand to offend the locals, whose country you have chosen to visit and admire. Read through this quick guide on what not to wear in Cambodia so you know just what to pack for the trip of a lifetime.
1. Cover up your shoulders and upper arms not to short
This means no tank tops, no straps, and not even t-shirts with sleeves too short cover your knees no above-knee shorts or skirt. To be completely safe, wear ankle-length pants or skirt, apparently sometimes people get turned away for not covering their lower legs too
2. Footwear do not wear in house or temple
When visiting the Buddhists temples in Cambodia, or entering a government building or someone's home, tourists are expected to dress smart and more conservatively. Women are expected to wear a knee-length skirt or pants, and are able to wear a t-shirt or a blouse with either long or short sleeves. All visitors to sacred sites should remember to remove their shoes and hat, and completely avoid wearing any clothing with religious imagery such as depictions of Buddha or Hindu gods.
3.  Do not wear hat
The feet are considered to be the dirtiest and least sacred part of the body. You will see almost every tourist and local in Cambodia wearing flip flops on a daily basis and that's because it's customary to slip your shoes off when entering a place—not just someone's house or a hostel. You'll be expected to take your shoes off at temples and many restaurants, too.
4. Do not wear black clothes
If you wish to wear black clothes, do not wear when you are invited to join wedding or engagement and pagoda. Black clothes only allow on death ceremony.
Is Cambodia expensive for traveling?
Cambodia is one of Southeast Asia's famous countries with beautiful landscapes and beautiful peoples. Although Cambodia is the least developed country, it can be slightly more expensive to visit than its more developed, economically successful neighbors. To have a comfortable trip, and exploring new experiences by several weeks of spending your precious time there, you need to set a reasonable budget to see the best of everything that you will spend during your journey.
There are some important staffs you should know before making a decision:
In Cambodia, the cost of traveling is cover by visas, transportation, accommodation, food, and nightlife.
The official currency is the Riel (KHM) that is only available inside Cambodia. The US dollars are widely available and accepted, ATMs and credit cards are also recommended.
Accommodation in Cambodia
While Cambodia has such these option of accommodation such as hotels, guesthouses, hostels, resorts.  Phnom Penh and Siem Reap have a great selection of small and comfortable boutique hotels offering beautiful rooms for 30$ to 50$ per night or upload to 100$ for luxury hotels.
For a cheap: we recommend budgeting at least 40$ for each day you plan to spend. This is enough for you to stay in a simple guesthouse, eat a mix of local and international food, and traveling along by bus.
For a medium: we recommend budgeting at least 75$ for each day. It is generally enough to travel around by plane and get a higher standard of accommodation and food.
For a five-star: we suggested preparing the budgeting at least 150$ per day if you plan on staying in a luxury hotel and have a perfect high food and drink.
Food in Cambodia
Cambodia's food is generally tasty and affordable with a good combination of both Khmer and international food. These are some popular dishes include Amok, a coconut-based fish curry…which you can spend on in such low cash. Therefore, the street food stand and restaurants are most commonly due to the growing popularity of tourist destination, you'll find a good selection of western restaurants with reasonable prices, hygienic and safe place. Actually, Khmer food is available from 1$ per dish and 3$ to 10$ for some western dish such as pasta, burger, pizza. Cambodia is also significantly cheaper than its neighboring countries for imported food and drinks like wine, cheese.
Travelling around Cambodia
To make your journey more convenient and unforgettable, there are three ways to travel around -by plane, by bus, and by train.
Traveling by plane is the most easiest and costly way, while there are three different international airports located in Phnom Penh, Siem Reap, and Sihanoukville. To fly one way from Phnom Penh to Siem Reap, you need to pay 80$ or more through Cambodia Bayon Airlines.
Traveling by bus: In each year, Cambodian's road network is getting much better and easier to reach your destination that required two options (Large intercity bus and small intercity bus). The cheapest way to travel around from Phnom Penh to Siem Reap while you spend only 6$ for the small intercity bus.
Otherwise, if you really have a plan to visit Cambodia, make sure you have travel insurance because Cambodia is a developing country where road accidents and injuries are common. However, here you'll find a place filled with the friendliest peoples, rich history, beautiful coastlines and lively nightlife by exploring the temples, taking in the deserted, white sand beaches, the growing and magnify scene, and wonderful culture.
Where is the best area to stay in Phnom Penh?
The capital of Cambodia, Phnom Penh, is also the biggest city in the country as well as being the wealthiest and happens to be the commercial and political center too. The city has been here since the 14th century and even though has been badly damaged by numerous wars as well as Phnom Penh's population being forced out into the countryside to work under the barbaric Khmer Rouge in the 70s, the city today is as welcoming and pleasurable as any other. There are many hidden gems in the city including gorgeous temples, fascinating museums, vintage colonial buildings and vibrant nightlife.
1. Daun Penh and Chamkarmon
The best areas to stay in Phnom Penh are Daun Penh and Chamkar Monas these two areas have the most iconic and must-see tourist attractions in the city. This is also where you will find the Mekong River as well as the best nightlife in the city along with a vast amount of restaurants, which offer various cuisines. Along with the best restaurants, nightlife and attractions that Phnom Penh has to offer, you will also be spoilt for hotels and hostels due to there being plenty of them to pick from. The Central Market, which is well set out and is where you can buy many products including jewelry, clothes, bikes, food and much more.
2. Tuol Kouk
Just behind both Chamkar Mon and Daun Penh is the Tuol Kouk district, which is a vibrant neighbourhood and is well-known for its cafes that sit on almost every corner and cheap hotels and hostels, which make it a great place to stay if on a budget. You will also find a few markets like the Russian Market, where you will find real designer clothes as well as food, jewellery and electronics. There are many traditional restaurants and pubs and is a good cheap option for people on a budget, which is still walking distance from the main areas of the city.
3. Prampir Makara
This small little area is home to an array of restaurants that offer anything from Japanese to American meals as well as a great selection of hotels and hostels that appeal to all tourists. Prampir Makara is a perfect place to stay in due to the location with the waterfront close by and the Royal Palace in walking distance. There are also various small markets that sell food, clothes and souvenirs and the district is home to the Olympic Stadium, which was never really used due to the 1960s Asian Games being cancelled, though it does get used for events.
How much money do I need to move to Cambodia?
Many people always ask a question "How much money do I need to move to Cambodia?" Well, that's a complicated question! It depends on whether you're moving to the city or the countryside, and what lifestyle you want to lead once you get there. The good news is, you're not alone: thousands of people make the same move, every year, and the country is full of people who want to help you.
For those who want to relocate to Cambodia, you've to be well-prepared of your budget in advance before moving to Cambodia. You also have to plan everything beforehand if you decide to live in Cambodia, and these include the rent, vehicle, food, and so on. If you've relative who already live in Cambodia, no worry, it's not a big deal on expenses as you can live under the same roof with them for a short time, and find the rent or buy a house later.
Related: Is Cambodia expensive to live?
At the meantime, if you don't have any relatives in Cambodia, and want to move to this country, it'll be a bit hard, but you still can live in Cambodia as long as you do some research about this country in advance. The research should be related to the cost of rent, living in the city and provinces which one is better, the living condition in Cambodia whether you can adapt to new culture or not, expenses on food, utilities, shelter, and many more. So after doing the research, you can decide whether you should live in provinces or city, then the expenses will also be depended on those two as well.
If you decide living in city, you have to spend a big amount of money than living in the provinces. Since you have to spend on rental fee of a house is around $170 to $300 per month, then you also have to pay for the food, utilities, electricity, and other stuff. You also have to spend money on vehicle since living in the city require you to have your own transportation so that you won't have to spend on the taxi or tuk tuk. You can also use the public transport, and it costs you a little money with the air conditioner provided. Using public buses cost you only around 1500riel ($0.4). For food, you can spend around 10000riel ($2.5) to 20000riels ($5), and you can serve for 3 meals. If you have kids, you also have to spend on their school fee as well, and it costs around 100$ per month if they are in high school, $500 to $3000 per year if they are in university, and $10 up if they are in primary school. And you also have to spend on something more besides these.
If you decide living the provinces, it won't cost you a lot of money. The rental fee, food, and electricity are also cheap. When it comes to transportation, it won't cost you much money unlike in the city. You also have to spend money on many stuff like in the city.
Overall, if you live in provinces, the budget should be around $2000, and for the city, the budget should be around $3000.
Is Cambodia expensive to live?
Cambodia is a very good and cheap place to live. Though Cambodia is the developing country, but many things are more developed and modernized, and still the cost of living in Cambodia remains relatively cheap if we compared to other countries in Asia and Europe. You won't get obsessed living in Cambodia as everything there is affordable and cheap.
If you're seeking for an apartment for rent, for sale, or for business or investment opportunities, all areas in Cambodia will be surely the right places for you. The rental fee is much cheaper than other countries, and the labors wages will also surprise you. The average rental fee for an apartment is from $400 up only, and it's comfortable to live as air conditioner is provided. If you're looking for a flat for sale, the price will be beyond your imagination. The average price for a flat is around $40000 to $80000 with many bedrooms, bathrooms, and you'll get some furniture for free from the house owner, and the surroundings would definitely surprise you with approachable neighbors.
The school fee is also affordable than other countries. For high school's students, the average fee is around $30 to $40 per month, and for the senior year of high school, the average fee is around $50 to $100 only per month, these include the fee from the special extra classes. The school fee is cheap because most of parents in Cambodia could afford it, yet it provides the best education for students with good learning equipment. For the college's students, the average fee is around $500 to $3000 per year. The college fee is cheaper than other countries, and students can get a good learning education with those average schooling fee.
When it comes to foods or clothes, they are cheap in Cambodia. You can be able to encounter the organic vegetable, and good quality of fabric of clothes with cheap prices. When you go shopping, the price and the quality of clothes will be beyond your expectation. Vegetable in Cambodia is cheap, and you can eat as many as you can, the more you eat, the healthier you get. Sometimes you could only spend 20000r ($5) on food, and you can enjoy it for a day.
When you're on a vocation to other provinces in Cambodia, the travel budget could be around $200 to $300 so that you can have much fun, eat many foods as much as you can, buying souvenir and stuff, and spending on travel accommodations with those travel budget. With an amount of those budget, you can have fun for around three days and two nights.
Overall, Cambodia is a cheap place to live. When it comes to shelters, foods, clothes, and many more, they are inexpensive in Cambodia. If you want to get to know more about this country including the living condition of Cambodians, education systems, the average salary of workers, history as well as historical places, you can explore more or visit Cambodia on your vocation; then you will see many expected things, stunning landscape, and helpful people.
Cambodia is a very safe place for expats. The Kingdom of Cambodia is located in Southeast Asia. It is a small country but has a rich cultural history and an abundance of natural resources. Cambodia is a tropical country, with an average temperature of 27 degrees Celsius, and the capital is Phnom Penh. Although Cambodia is a developing country, but it is known for its exotic cuisine, its Angkor Wat ruins, and its young people. Cambodians are multicultural and are very friendly and welcoming. If you are thinking of expatriating to Cambodia, you have likely already prepared yourself well.
Most of the expats coming to the Cambodia live in three major cities such as Siem Reap province, Sihanoukville, and Phnom Penh city for long term visitors. Other provinces such as Battambang Provinces, Kompot, Kep, and many more are also very popular for foreigners for short term visitors.
Moving to Cambodia for the first time might be hard to adapt at first since everything is new for expats with a different culture, but if you learn to adapt from day by day, you'll get used to it, and love this country.
If you a foreigner, and move to Cambodia, living in the apartment and condominium is a very safe and good for you to live since each condominium and apartment has the security guards and security systems to alert when there are robbers who break in an apartment or condominium. Don't feel panic about this as it's safe and secure enough to live for expats.
Living in the hotel is also a good place for an expat because it's quite comfortable, and safe to live since each hotel serve you a food, convenient place to relax, and strict security. Living in hotel, you don't have to cook food buy yourself as it's provided by the hotels, or you can dine out if you get tired of the food in the hotels.
One important thing is that you have to spend a big amount of money than living in an apartment or condominium. Either of them is safe, and they have the alerting system when stranger break into your place. Sometimes strangers can't even come to your apartment, condominium, or hotel because each of them provide electronic card which you can use to open the door, so if someone don't have it, how come they can enter your place.
It's also safe when expats go shopping as long as they bring or carry their backpack to the front. Living in Cambodia is also fun when the festival is approaching such as Khmer New Year festival, or Water festival.
In the past few centuries, this Southeast Asian kingdom has been conquered and occupied by the French, Japanese and Vietnamese. But today it is peaceful, safe and an increasingly popular destination for travelers from around the world. It's time to put the brakes on your visit to this charming Southeast Asian country. You may be excited about the adventure ahead, but there's a few things you need to know before you get started. Here are some of the top do's and don'ts when traveling Cambodia.
Do's in Cambodia
1. Chum Reap Sur and Sampeah
Cambodian people greet each other by saying "Chum Reap Sur", accompanied by a gesture of pressing their palms together in front of their face and slightly
bowing forward, which is called 'Sampeah'. Your Cambodian hosts will be happily surprised to see you using the 'sampeah' to greet them instead of ''Hello" and shaking hand.
2. Shaking hands
Shaking hands is currently more acceptable, usually with men, but informal if you respect this with stranger and older people than you.  When offering a gift to a Cambodian person, especially an elderly, it is the convention to present it with both hands. It appear that you respect them and give it by your heart.
3. Wearing clothes
Before entering a sacred place, such as a Buddhist pagoda or the Royal Palace, please remember to be dressed in a clean and modest manner. Especially, women should wear a t-shirt or a blouse with short or long sleeves and a skirt or pants at least at knee-length.
4. Hat and shoes
When entering someone's home, please remember to leave your shoes at the entrance. Although your Cambodian hosts will often insist that you keep them for your comfort, they will always appreciate your consideration for their home. Wear down your shoes or your hat in the house that appear you are uncomfortable to stay in their home.
5. Taking picture
Although Cambodian people enjoy having their pictures taken, do ask for permission first.
Don'ts in Cambodia
1. DO NOT touch head
Please DO NOT touch or pat the head of people, even children.
2. DO NOT sit cross-legged
If you go to a pagoda and have to sit on the floor, DO NOT sit cross-legged or with your legs outstretched. Instead, sit slightly sided on your heels. If the position becomes uncomfortable, try to shift on your other side.
3. DO NOT touch monk's robe or body
Buddhist monks are deeply revered and respected. Women are not allowed to touch a monk's robe or his body.
4. DO NOT kiss and hug
In public areas, kisses and hugs, are considered inappropriate and offensive behaviors.
5. DO NOT point your feet at people
Don't give gifts to kids informally​​​​ avoid misunderstanding of kidnapping. Don't touch people on the head and try not to point your feet at people or an object.
People in Cambodia are most commonly eat either healthy food or fast food. Cambodian food is considered to be healthy and full of nutrients as it consists of rice, organic vegetable, and not too much meat in every side dish. Fast food is the type of food that has high calories than healthy food. People enjoy different types of side dishes as well as Asian food, and western food depend on time and situation.
In Cambodia, people have to eat three meals a day including breakfast, lunch, and dinner. Are you wondering of what people in Cambodia eat in a day? Do they only eat fast food and healthy food excluding spicy food? If so, no worries, the lists below will let you know what types of food that people in Cambodia usually enjoy.
What people eat in the morning in Cambodia
For breakfast, every country has their own style of breakfast. In Europe, they would prefer eating toast with fry egg, or omelet with ham or sausages, but in Asia, it would be a little different from western, notably in Cambodia. In Cambodia, every meal has to include at least a bowl of rice. Below are the common breakfasts that people generally enjoy.
Rice with pork: People would eat a bowl of rice with pork or chicken also known as Bay Sach Chrouk or Bay Sach Mon as a breakfast. They will enjoy this meal with a bowl of hot soup as it's additional. Pork is marinated well and grilled over charcoal. This Bay Sach Chrouk is served with pickle radish and cucumber, which is easily to get done. This is one of the most popular types of breakfast, a dish cost for only 5000 riels to 8000 riels ($1.25 to $2). Many locals enjoy this types of breakfast with a cup of coffee.
Porridge: this is also one of the common breakfast. This porridge will serve with salted sun dry fish. It's the best combination ever, and it's so good. This dish is cost only 2000 riels to 4000 riels ($0.5 to $1). You can prepare this type of side dishes at home by yourself as the process of making this is not complicated. People will sometimes enjoy eating noodle soup as their breakfast too.
What people eat in the afternoon and evening.
The kinds of food that people eat as lunch or dinner are commonly the same as because when the food is left over from lunch, they will keep and reheat it again, and eat as dinner. Every meal could be soup or stir fried vegetable with meat. Khmer food is made with organic vegetables which add aromatic and spicy flavor to the traditional dishes. Khmer cuisine is well balanced which is not too sweet or too salty. The food that people eat as lunch and dinner are generally made with home-grown vegetables. Below are the common side dishes, which are usually eaten:
Stir fried vegetable with meat: people usually eat stir fried food as it's easy to make, and delicious. Using the fresh vegetable, add a little bit of oyster sauce and stir it well with meat until it's well cooked, then you can enjoy your meal with a bowl of rice.
Mango salad: people will eat this salad with any kind of meat. Making this, you can just use a green mango, and peel off the skin. Then, clean it and thinly slice the mango. After that, mix it with the fish sauce and add more seasoning as well as salt, sugar, at last, it's done.
Besides these, people will prepare another side dishes such sweet and sour soup with fish, Khmer noodle, Cambodian sausages, and many more. You can discover any kind of food you like in Cambodia.
Along with Khmer food, people also enjoy western food or fast food such as burger, sandwich, pizza, meatball, so on and so forth, but not commonly eat. They will also eat spicy food such as papaya salad, and spicy marinated raw crabs. There are plenty of foods that people in Cambodia usually eat not only Khmer cuisine; they sometimes enjoy eating fast food and canned food as well.
Cambodia is located in Southeast Asia where is bordered by Vietnam to the East, Laos to the North, and Thailand to the West. Cambodia has increasingly become the most popular destinations among other countries in Asia. Not only the best place for traveling, but Cambodia is also one of the safe countries to live. Every country has petty crime, and Cambodia has too such as bag-snatches and pickpockets. As long as you're aware of the issues, and crime in this Kingdom of Wonder, and if you prepare and protect yourself well in advance, you'll surely have no problems with this country, and it'll be safe to live. Here are some of the tips for staying safe in Cambodia.
1. Avoiding minor crimes to happen
In Cambodia, the most common crimes are pickpocketing and bag-snatching. Please be aware of that the petty crimes can happen everywhere and without warning such as when you are in the tuk tuk, on the back of motorbike, or when you are just wandering around the crowded markets. Some thieves will make a quick snatch and grab your belongings from Tuk Tuk or from your motorbike, others will lift your bag and run away when you're sitting or wandering around the crowded. To avoid these, you should be careful with your belongings and carry your stuff anytime when you go elsewhere. Please keep all of your important and priceless things in the safe place or at home instead.
2. Crowded places to avoid at night in Cambodia
There are many places in Cambodia that you can have fun at night including clubs and pubs. Pub street is one of the most popular places where is took place in Siem Reap province. This place is crowded as its surrounded by so many people. Plenty of bars and clubs around the riverside in Phnom Penh are also filled with all kinds of people. It's true that you want to enjoy your moment there, but you should protect your things, or you can leave your valuable stuff at home. You shouldn't carry a lot of cash with you, but instead taking your credit card with you as it's safer than taking much cash around. Don't go home alone at night, and you should have your friends to accompany you.
3. Personal safety tips
Avoiding the crowded places, and petty crime to happen out of the blue are not enough, you should take care your personal belongings more if can. Look through some of these personal safety tips below to minimize risk.
When walking through the place that is full of people, you should take and carry your backpack in front of you.
Don't put your cash and phone at the back pocket.
Don't take your valuable things with you such as original passport or jewelry.
Make sure you put all of your belongings inside the vehicle like when you're on the Tuk Tuk or riding a motorbike.
Make sure not to carry a cross- body bag over one- shoulder when you are riding a motorbike by yourself or alone.
Never leave your bag or your precious items at somewhere while you go to the bathroom or elsewhere.
Don't carry much cash and all of your credit cards with you at once, but instead you should take for only the maximum amount that you need.
Always lock the door every time you leave home to somewhere else, and even when you fall asleep.
Is Siem Reap safe for tourists?
Siem Reap is a great city to explore on foot. It is generally safe although there are odd incidents of bag snatching. Take the usual precautions such as leaving your passport and valuables in the safe at the hotel, and walk with a group of friends, especially late at night.
Even though it's safe for travel in Siem Reap, tourists should careful with the below points
The biggest problem is bag-snatching when pairs of kids on motor scooters zoom up behind the unsuspecting then grab their bag and speed off with the loot. They are quite happy to do this whether you're walking, cycling, or on the back of a moto, making it incredibly dangerous for the victim.
Most importantly, if you don't want to lose it, don't carry it. Whether it's credit/debit cards, passports, or jewelry, keep it in the safe at your hotel. Only carry cash, and for the things that you have to carry, like your phone or camera, make sure they're insured.
There are a lot of commission scams in Siem Reap that involve certain guesthouses and small hotels paying moto and taxi drivers to deliver guests. Ways to avoid these scams include booking ahead via the internet and arranging a pick-up, or sticking with a partner guesthouse if you are coming from Phnom Penh. Alternatively, just go with the flow and negotiate with the hotel or guesthouse on arrival.
Finally, I think Siem Reap is safer more than dangerous, although it has bag snatching, scams, not all Cambodians are bad, just a small amount that they disrespect the rule.
Where should I live in Cambodia?
Cambodia has many safe and impressive places to live. First choice of locals and tourists of choosing a place is to find the tranquil area with natural beauty along the way as they can live at ease, and to seek for friendly neighbors as they can help when someone else is having a hard time, or they can just interact with each other so as to make the friendship well-connected.
Cambodian people are companionable and kind-hearted. It doesn't matter if you live in provinces or Phnom Penh, people are all friendly and nice towards each other. "if I want to move to Cambodia, where should I live there?" This is the frequent question which people usually ask when they first start their life in Cambodia. Are you considering of discovery a comfortable place to live in Cambodia? Quick look through these suggestions below to guide you for selecting the most suitable places for you.
You have to be well-considered whether you want to live in city or provinces.
Both Phnom Penh and Provinces have their own specialist and advantageous. If you are a nature and environment lover, living in the countryside is the most suitable one for you, but if you are keen on working, and modern people, so living in the city might be your most preferable one. Though Cambodia is developing country, but Cambodia has many developed things with contemporary places.
1. Phnom Penh
Phnom Penh is the capital city of Cambodia, which has the highest population for about 2 million people in the city. Phnom Penh is modernized among other provinces as it has luxurious shopping malls and supermarkets, many modern buildings infrastructure, and many historical destinations that are the most memorable places such as Toul Sleng Genocide museum, where is a place that used to be a security prison in the Khmer Rouge Regime, Royal palace where serves as the royal residence of the King in Cambodia, and many more historic places.
Living in  Phnom Penh city has more opportunities in seeking for jobs, and chance to get higher wages. Apart from this, in the city it has many universities with good learning equipment, also artificial zoo, and man-mad resort. If you are a branding lover, we also provide you with many brand clothing stores with affordable prices. If you are kind of a modern person, and looking for classic places and fancy stuff, no worries, Phnom Penh has its all. Living in Phnom Penh is like living in a modern city with new standard.
Phnom Penh is an appropriate place for setting up a business because it's crowded, and many business investments are primarily run smoothly. At the meantime, you will easily spot restaurants and coffee shops as they're everywhere.
2. Provinces
Living in province has a good impact on your mental health as you can take your mind off from stressful stuff, and fresh air is included. In province, it has scenic beauty as well as waterfall, mountain, and scenic greenery along the way. When it comes to food, everything is healthy as plenty of crops, fruits, and vegetables are organic. There are many local markets with fixed prices in provinces, and also many tourists are captivated to countryside because of their stunning scenery. Many restaurants, café, and hotels are effortlessly to search for. There are many historical places in each province where you can acknowledge yourself more about the history. You can simply live a simple life in provinces.
You have to ask yourself first, what types of person are you? Are you into fancy stuff? Are you a nature lover? Are you a branding lover? Or are a thalassophile?
So if you are into fancy things, and branding stuff, I would suggest you to live in Phnom Penh because it's great for you to live there as you can enjoy your spare time with your favorite items
Are you a nature or art lover? If so, I would recommend you to live in provinces such as in Siem Reap province, Battambang province, so on and so forth. Living there are probably the right places for you.
If you are a thalassophile (a beach or sea lover), my suggestion is to live in provinces where are located near the beaches including Kep, Koh Kong, Sihanoukville, and Kompot.
There are 25 provinces in Cambodia including the capital city of Cambodia. Cambodia is a safe country to live with elfin landscape, so no matters if you prefer living in provinces or Phnom Penh, you will live a commodious life with warmhearted people as everyone is generous and approachable.
What do people in Cambodia do for fun?
Cambodia is a part of the Indochina, which is also a member of ASEAN. This kingdom of wonder is widely known as the country that has the prodigious historical and scenic beauty. Despite this fascinating culture, Cambodia also offers travelers to see the ancient temples, and visit the historic museums. If you are an adventurer, and you want to do something risky, we also provide you many adventures to do. Cambodian people typically prefer to have a fun trip and fun activities rather than doing something risky. Here are the top things that people in Cambodia consistently do for fun.
1. Cycling
Cycling is the trendy sport in Cambodia. People enjoy bicycling because doing this type of exercises has a big impact on their physical health and mental health. One advantage of cycling is that you get to see many beautiful landscapes and the cool features of many places. People of all ages would prefer this types of exercise as it's safe and economical.
2. Diving
Exploring the underwater is one of the best and fun things to do in Cambodia. The fascination of this kingdom of wonder isn't just defined to what we see on the surface, but also in the vibrant world underneath. Cambodian people regularly dive underwater when they are at the beach where is the diving sites located. When diving, you will be attracted by the marines' life such as seahorses, whales, starfish, and you will also spot many other beautiful things unexpectedly underwater. The best time for diving in Cambodia is from November to May.
3. Shopping
Shopping is one of the casual activities that Cambodian people do for fun when they are free from their work. Although doing shopping cost a lot of money, but they can get the things they want, and they also upgrade their styles. Shopping is exciting and carefree.  When doing this, people can freshen up their mind because they are only focused on what they desire not on the stressors in their life.
4. Relaxed at the beach
Cambodia has the most relaxed and laid-back beaches in Southeast Asia. Besides visiting the ancient temples, people are attracted to the sandy, and many beautiful beaches in Sihanoukville, Kep, and Koh Kong, which produce comfort and splendid views for travelers. Beaching is actually fun and relaxed because of the blue charming sea, the endless landscapes, soft sand, rolling wave, and the spectacular sunset, which are really peaceful.
5. Eating
Eating food is also one the best things that people do. This activity is fun and satisfying. Eating helps the anger, and stress to be released from the brain, and the negative thoughts will also be refreshed from our mind. Eating creates a sensation of good feelings and the positive reinforcement. If you are in a critical moment, and don't have any ideas of exercising, so choose eating as one of the fun things that you should do. Though people can gain weight from eating food, but it remains helpful.
6. Meditation
Many people will think mediation is the activity that is only about relaxation, but this type of activities is quite pleasant and fun too. When people start doing meditation, they have to find the most relaxed place surrounded by greenery along the way. The natural beauty around adds to the entire experience. Doing this is one of the thrilling thing to do in Cambodia, and people will get new experience from meditation.
Where can I buy clothes in Cambodia?
Not only a country that is rich in both culture and tradition, but Cambodia is also known as a great country for shopping. There are plenty of markets in Cambodia where is your best shopping destinations including in provinces and Phnom Penh, which provide you the inexpensive and good quality of clothes and many more. In Cambodia, you can either do shopping offline or online that you can settle on your most preferable one. Have no ideas in finding swag clothes, cute clothes and fancy dresses while doing shopping in Cambodia as it's your first time traveling to this country, here are some of places that are good for shopping destinations where you can buy anything you want, and guide you to your shopping target.
1. Russian Market (known as Toul Tom Poung Market)
Toul Tom Poung market is located in Phnom Penh. This market is not only best known for handmade souvenirs, and jewelry, but it's also good for offline shopping. Mostly, Russian market sells the factory and brand name clothing, which are made from Cambodia, and exported from foreign countries such as Thailand, Hong Kong, and Korea. The cost of clothes is affordable, and the fabric is also pleasant. One particular thing is that all types of stuff as well as clothes and dresses in this market is fixed price. You can bargain the price with sellers if you think the original price is kind of expensive for you. Russian market is one of the best place to go for the clothing, but please be well-prepared of hot and sweaty time of digging through tons of clothes to seek for what you are looking for.
2. AEON MALL 1 & 2
Aeon Mall is one of the luxurious and biggest shopping mall in Cambodia that has many branding stuff. There are a lot of brand clothing shops including Asian brands, and Western style. If you are a brand clothing lover, you should spend your money and time there, and you will enjoy your shopping moment without sweaty because it has the air conditioners everywhere. The cost of clothes is kind of expensive as it's a branding one, but if you think you can afford it, it won't be expensive for you. All types of clothes and dresses are not fixed prices.
3. Beoung Keng Kong Market
Beoung Keng Kong Market is also one of the best shopping destinations where is located in Phnom Penh. There are tons of factory clothes, which were manufactured by locals, and many second hand clothing. You can also discover many beautiful women and men clothing based on your styles. The fabrics are truly gorgeous, and the price is cheap and affordable.
4. Pub Street
Pub street is located in Siem Reap province, and it's the nightlife hub of the town. Tourists around the world who come to Siem Reap province will not miss this place because they can chill their time there. Pub Street is not only popular for clubs, but it's also notable as one of the best shopping destination. You can find out many traditional and casual clothes with inexpensive prices if you don't want to go to the local markets.
6. Central Market (known as Psa Tmey)
Central Market is the oldest market and the Art Deco landmark of Phnom Penh, the capital of Cambodia. It's the most popular one among other markets in Phnom Penh where you can dig the load of clothes with fixed prices. One serious thing about this market is that you will be lost if you're not familiar with this market, which mean you won't be able to find the parking lot. So please be careful with this, and don't shopping alone.
Besides this, if you don't want to do offline shopping as because it's waste time, and exhausted, you can prefer online shopping instead by only dropping your order. There are hundreds of online store websites, or you can discover many online shopping name in Cambodia by searching them on social media platform as well as on Facebook or Instagram.
What is the best thing to buy in Cambodia?
When people visit other countries, they want to know the best things that they can buy as gifts to show that they have traveled to that countries. Cambodia is best known as a country that produced the handmade souvenirs, which are designed and created by locals. There are many unique artisans and handmade gifts in Cambodia that tourists can see their masterpiece and passion through their work. Here are the 6 best things to buy in Cambodia, the Kingdom of Wonder.
1. Khmer scarf (known as Krama)
Krama is a traditional Cambodian garment with many different uses such as to cover the face, for decorative, as a hammock, as a bandanna to around the neck to prevent sunburn, to cover the hair and head, to wipe sweat, to wrap clothes, and many more in different usages. You'll spot the karma everywhere you go because it's the symbol of Cambodia and used by all kind of people. Tourists can find Krama throughout the country with varying prices. Krama has many different colors, which you can choose your own favorite one. It's one of the meaningful thing as because it is handmade, wove by hands. Don't forget to buy Krama when visiting Cambodia.
2. Palm sugar
When it comes to sugar, both tourists, national and international, they tend to prefer palm sugar because it is made from the palm juice, and stir it well until it becomes brown. If you want a palm juice, you have to catch the palm fruit by climbing to the palm tree until you reach to the skinny trunk to get the fruits, and the trunk of a palm tree can span for about 30 meters. The palm sugar tastes similar to normal sugar, but it is sweeter and more delicious, and it also has the brown color. Many people use palm sugar in cooking, making dessert, and there is no expiration of palm sugar, which means you can use it anytime, and you can keep it for a long time.
3. Reed Basket
Reed basket is a handicraft, and It's an important view of rehabilitation for the victims of landmines. The reed basket is being made from the reeds, and people have to cultivate and harvest it by themselves. Mostly, Cambodian people use this to carry things, including putting the dry fish, fruit, or vegetable in this basket.
4. Organic Soap
In Cambodia, people tend to use natural ingredients to produce scented products like soaps. The soaps that is made by Cambodian have the unique smell and scent. Lemongrass, lemons, pepper, and coconut oil are mostly being used as the ingredients in mixing soaps. Using natural soap is good for skin, makes the skin tighter and brighter. Organic soap is very suitable to be a gifts, which provide the unique smell, and unforgettable scents.
5. Sculpture arts
In Cambodia, many locals have made many splendid duplicates of sculptured works with affordable prices. They tend to sculpture the art like the illustrious Angkor Wat, Apsaras, so on and so forth to become mini statues. Those artworks are conveyed from the Khmer Spirit that become into artistic works. They remind us the hidden glamor of Cambodia where is best known as the amazing historical country.
6. Rice wine
Rice wine is the traditional alcoholic beverage in Cambodia, and it's typically being used to make the sausages. The process of making rice wine is not complicated if you're familiar with it because it's easy to follow, and make this at home. Cambodian rice wine is made from the sticky rice that has been converted to the unique tasting drink. Making rice wine need to have two main ingredients, which are sticky rice, and yeast powder, and know the basic processes along the way. First step, soak the rice for about 1 hour, then rinse it and boil it a steamer. Check the rice if it is well-cooked, then spread the rice on the cooking sheet. Step two, crush the yeast ball to become the yeast powder, and then combine the yeast powder on the rice on the cooking sheet. The next step, place both of them on the container, and wait for it to ferment for a month. Finally, strain the rice mixture and enjoy the wine. When traveling to Cambodia, don't forget to grab a bottle of rice wine, which provides you the unique taste.
What is the best way to travel around Cambodia?
Wondering about getting around Cambodia? Cambodia feels like a bit of a hidden gem in Southeast Asia. While it's still a pretty popular tourist destination, with spectacular temples, beautiful islands and beaches, and a rich cultural heritage, Cambodia's a place you won't want to miss.
While the bustle of the big cities might be the country's main attractions, my favorite places in Cambodia are actually the smaller towns and villages. The most popular form of transport for most travelers, connecting all major towns and cities have many ways and safely. Travelers feel comfortable and truth to driver, especially it isn't the highest price. Everyone can afford and easy to communication, they can guide you around the city or villages directly.
1. Bicycle
Cambodia is a great country for experienced cyclists to explore. A mountain bike is the recommended set of wheels thanks to the notorious state of the roads. Most roads have a flat unpaved trail along the side, which is useful for cyclists, especially in Siem Reap cycling is the most popular traveling for tourism drive along Angkor Temple with warm and cold weather. Top bikes, safety equipment and authentic spare parts are now readily available in Phnom Penh at very reasonable prices.
2. Car and Motorcycle
Car and motorcycle rental are comparatively cheap in Cambodia and many visitors rent a car or bike for greater flexibility to visit out-of-the-way places and to stop when they choose. Almost all car rental in Cambodia includes a driver, although self-drive rentals are also available in Phnom Penh.
3. Train
Mothballed for years, Cambodia's rail system has been rehabilitated in recent years and limited passenger services resumed in 2016 through national carrier Royal Railway. Currently the only service links Phnom Penh with Sihanoukville via Kampot, with departures on weekend mornings. Plans call for plugging the Cambodian line into the Trans-Asian Railway network, which will link Singapore and China, but connecting Phnom Penh with Ho Chi Minh City via a Mekong bridge will take a few years yet. The 385km northwestern line, which links Phnom Penh with Pursat and Battambang and was built before WWII, is next in line to open. Train is the best atmosphere for relaxing on your holiday.
4. Bus
These days most of the major roads are sealed, so the bus journeys are relatively short, with a trip between Phnom Penh and Siem Reap taking less than six hours.
There are also international routes going from Phnom Penh, Sihanoukville, and Siem Reap to Ho Chi Minh City (Saigon), Vietnam, and from Phnom Penh to Bangkok, to the Laos border via Strung Treng, and to the Thai border via Poipet. Most buses are air-conditioned, often to an extreme, so bring a sweater as well. Some buses do have bathrooms on board. Mostly the price is acceptable for tourism and Cambodia residents.
Cambodia is the best place for exploring, cultural, temple, beach, Island and mountain. Every tourisms shouldn't miss this popular place!
What are famous tourist attractions in Cambodia?
The Kingdom of Cambodia is a small nation in Southeast Asia, and is bordered by Thailand, Laos and Vietnam. When you think of Cambodia, you probably think of the ruins of Angkor wat. But there is a lot more to the country than its most famous tourist's attraction. If you're planning a trip to Cambodia, check out this 4 destinations that aren't the world famous ruin.
1. Angkor wat
Angkor wat is a widely tourist in Cambodia and the largest of all Angkor temples. Nearly 2.6 million international visitors are visited Angkor wat every year. One inside Angkor Wat you can find many beautiful towers and artworks with the classical style of Khmer architecture, which makes it a popular tourist site. Once the tourists never pass out is the best time for photography is sunrise, so you should plan to go early and be sure to make it to Bakan Sanctuary. Wander through the Angkor National Museum opened in 2007 the museum is consisted ''the jewel'' of Cambodia as it is home to a comprehensive collection of relic from the ancient Angkor Empire, the highlight of the museum is a gallery of 1000 Buddha images and hundreds of sculptures of wood, jade and mental are put together to tell a coherent narrative of the Angkor Empire's beginning and eventual downfall.
2. The National Museum
The National Museum is located in Phnom Penh city near the Royal palace. The National Museum in Phnom Penh is the largest and the great place to see and learn about Cambodia's history, culture and people. Especially the museum contains an impression collection of items that date back as far as the prehistoric times up to the modern day, including a collection of Khmer Statues and displays of local artifacts and national treasures.
3. Sihanoukville
Sihanoukville is a small popular town destination for travelers looking to get off the beaten path. With its beautiful beach and laid-back vibe, it's a good place to get away from the hustle and bustle of the big city. It's a great atmosphere for travelers who wish to see the beautiful paradise that contains lot of beaches such as Otres beach, Ochheuteal beach, Bamboo Island, Ream beach, Koh Chraluh, Koh Rong Island, Kbal Chay waterfall and the artmosqu for relaxing.
4. Bokor Mountain
Bokor Mountain is located at the border of Kampot and Kep provinces in Cambodia. The mountain is 700 meter high and the shape of a frog. Bokor means Frog Mountain in Khmer language. There are two lakes on top of the mountain and a temple with beautiful architecture.
Bokor Mountain has the old luxury resort that was built by Colonial French a beautiful path that take you through the forest, past lakes and beautiful views.
If you wish to visit a place full of amazing scenery and culture, the welcoming Cambodian will make you feel like you are visiting family, as they're so friendly and kind. If you enjoy nature, there are many beautiful temples and forests for explore.
What currency do they use in Cambodia?
In Cambodia, what currency is used? This is a fascinating question. They use two currencies, the US Dollar and the Cambodian Riel, which are interchangeable! Does it seem to be difficult? We're here to assist you.
The Riel is the Cambodian currency; it is the country's official currency, and it is used to price goods in places like supermarkets. The Riel was first released in 1953 and was officially abolished in 1975 when the Khmer Rouge took control of the region.
Related: Related: Can foreigners work in Cambodia?
This is something that no other "socialist" nation has accomplished. During this time, money was printed, and the Khmer Rouge also printed their own notes in 1993 to be used in the large swaths of eastern Cambodia still under Pol Pot's influence. Money was agreed to be restored as the second Riel when the Vietnamese liberated the region, and it has remained in the same format until now. The question of do they use usd in Cambodia?
This is where things get interesting; Cambodia currently has a dual currency structure; with the US dollar and the Riel both being accepted as Cambodian currencies.
Additionally, if you pay in dollars, you will almost certainly obtain some change in Cambodian currency. Consider the scenario where anything costs $1.75 and you give $5. You will get $2 in change and 5000 Riel in Cambodian currency. For example, 4000 Riel equals $1 and 1000 Riel equals 25 cents! There are 500 and even 100 Riel notes for smaller denominations.
Related: 7 Reasons to Invest in Cambodia Property
Besides all of this, tipping also the thing that tourists need to understand. Tipping is not customarily anticipated in Cambodia, but in any third-world country, tips can go a long way for those with limited resources. Tipping is not expected in some of the more upscale hotels and restaurants because a ten percent service fee is applied to the bill.
A dollar is usually considered a decent tip for cleaners, moto drivers (only on long trips or full-day rentals), and taxi drivers.
What is Cambodia best known for?
Cambodia is best known as a country that has rich culture, many traditions, and beautiful landscapes. This kingdom of wonder is one of your travel destination that you shouldn't be missed, and it should be included on your traveling bucket lists. You won't regret getting to know this country, and you'll see how unbelievable this country is. So if you're still considering about this country whether it should be your traveled destination or not, keep reading these facts below to discover more what is best known in Cambodia?
1. Angkor Wat temple in Siem Reap province
When it comes to Cambodia where is located in Asia, some tourists might be thinking about Angkor Wat temple which is one of the mysterious temple ever. It was built in the early 20th century by the King Suryavarman II to dedicate to Vishnu, and it was transformed into a Buddhist temple in the end of 20th century; it still remains as a Buddhist temple in the current time. This temple was constructed from a sedimentary rock made of sand where were quarried from Kulen mountain. This construction involved nearly 300000 workers and 6000 elephants. Many scientists still wonder of how come this temple was done for only 30 years and the structures of this temple still remain the same as it was only constructed from sandstone, and none of a bag of concrete was involved in this construction. How amazing this place is. You can explore and get to know more about Cambodia beforehand if you plan to travel to this country.
2. Scenic beach in Sihanoukville
Cambodia is considered to be one of a country that has many beautiful beaches. Pristine sand is covered by turquoise sea. When the wave is rolling, it creates another spectacular images. The atmosphere and breathtaking landscapes will make you feel like you're on another planet. The sea is surrounded by scenic greenery with cool fresh air, and around at 6 o'clock in the evening, you'll see beautiful sunset. Don't miss the beautiful beaches when visiting Cambodia.
3. Khmer cuisine
Cambodian food is healthy and delicious. When it comes to food, many people may think of Amok as it's one of the most popular food. This kind of food is steamed with any kind of meat, and coconut cream is included as well, then mix it and put them in banana leaves. Besides these, there are also Khmer sour soup with fish, and Khmer dessert is considerably to be well known too.
4. Friendly country
Cambodian people are approachable and kind. So when you travel to Cambodia, don't feel worried about Cambodian people behavior; they are friendly and ready to help you when something is gone wrong. When you seek for help, they will be there, and when you get lost, they will assist you to find the way back home. In Cambodia, it has an internal collectivist culture as it's easy to make friends with Cambodian people, and they tend to tell honest feelings towards each other.
Is it easy to get a job in Cambodia?
Seeking for a job that you are passionate about is easy as long as you are skillful and qualified enough, then you will be able to get one. If you are looking for a job that works in the non-organizational government, you're required a lot of experiences for at least 5 to 10 years to get into it. Plus, high paying jobs are also needed many requirements. But no worries at all, you will still get hired even if you have no any experiences in working. Everyone can get a job in Cambodia including both locals and foreigners as long as you're willing to be flexible and willing to work. Read these reasons below why it's easy to get a job in Cambodia:
1. Not every workplace requires experience
In Cambodia, not all of the companies require experiences because they want to give the opportunities to people who have no any experience in working, so those who are not used to work will probably get hired. To be eligible, some of companies are only required those who graduate from high school, or people will easily get hired if they show their commitment and potential of why they want to be chosen. There is nothing to worry about, all you need is confident. If you believe in yourself, everything will flow smoothly.
2. Experiences from volunteer work
You'll be selected if you have experienced in any social working. Some companies will only require your social working experiences. Some people might say doing volunteering job is wasting time because you will get nothing from voluntary, and it doesn't benefit you at all. But you'll never know how important volunteer work is, it does give a lot of advantages and give more opportunities in seeking for jobs. Sometimes you will easily get hired if you have experiences from those unpaid jobs as many workplaces need those involvements. So start working with voluntary work or internship even if it's unpaid or paid, you'll surely gain more knowledge from those works.
3. Networking
Networking helps people to easily get a job as well. Advanced technology has made people's life more convenience, notably in Cambodia. The more technological has developed, the more advantageous people get. Because of this, people can discover a tons of job lists on the social media platform, therefore they can look for a job that they want without spending too much effort on seeking for jobs. In Cambodia, many companies post the job application and requirements on the internet as well as on Facebook or other websites, so people can just apply for any works they like. It's always a good step to start a first move.
4. Skill proficiency
In Cambodia, many companies need those who are high skill, very proficient at one main task to be an employee because skilled workers are highly productive, and they definitely have the expertise to deliver a job well done, and benefit to the companies. Those who are very skillful, and specialized in one field, you'll always be the first priority in getting a job; therefore, you'll be treated better and well paid if you're highly proficient, and without doubt you'll get hired no matter what.
Cambodia has many great places for shopping, and everything is inexpensive in this country. If you're looking for clothes, they are fixed prices, and if you're looking for accommodation when traveling, there are many cheap places with good quality. Souvenirs and foods are also cheap which you can purchase and order as many as you can, and no worries, you won't obsess with the prices of every item.
1. Travel accommodation in Cambodia
When traveling to Cambodia either in provinces or Phnom Penh city, you'll spot many travel accommodations such as hotels, hostels, and guest houses, even the prices of these accommodations are unbelievable.
Hotels: Hotels are the most preferable one, which people usually choose when they travel. This mostly are being used by family and those who want a cozy place. Every hotel has one or two swimming pools, and foods are also provided. The price of staying in a hotel per night is around $30, and breakfast is included.
Hostels: Hostels are being popular among teenagers and adults. You can enjoy staying in a hostel with comfortable atmosphere, air conditioners, and restaurant which is prepared by a hostel, but you have to spend on the foods by yourself. The price of staying per night is around $5 to $6 only. Some hostels won't provide you a swimming pool.
Guest houses: Guest houses are also used by people of all ages when they travel. The price of staying per night is around $15 to $20, and breakfast isn't included.
2. Clothes and souvenirs
If you're looking for a shopping destination, Cambodia is considered to be one of the best sites for shopping. Clothes are very cheap here, and the quality is beyond belief. The fabric is soft and great which can't describe more, and it doesn't suit with the prices. If you go to the local markets, you can bargain with the seller to reduce the prices just in case you think the original amount is expensive for you. For the branding clothes, they are very affordable as well, and the fabric of the branding clothes is unbelievable. There are also many branding stuff and stores in Cambodia; if you are seeking for branding bags or backpacks, Cambodia has its all.
Cambodia is also widely known as a place that produce handmade souvenirs, and features of each souvenir is different from one another. If you're looking for jewelry, art sculptures, scarf, and many more, you can find those at local markets, and the prices of one handmade gift such as Khmer scarfs, replica bracelets and rings, are around 10000 riels ($2.5) only per one. For the art sculptures are from $15 to $20, and the quality is great, and the features of each art is unique.
3. Foods
When it comes to foods, everything is healthy, cheap, and delicious in Cambodia. Vegetables are organic as it's mostly grown by the locals. If you're looking for fresh home-grown vegetables such as lettuces, cabbages, tomatoes, and many more, you can find these at local markets, and it's only about 10000r ($2.5) per kilogram as it's the average prices per kilogram. Sometimes, the price depends on what kinds of vegetables you choose.
Is Cambodia a friendly country?
When it comes to Cambodia, you might wonder whether this country has a warm welcome for travelers or not, or some might doubt that "Are people in Cambodia friendly towards each other?" So, as a matter of fact, Cambodia is one of the friendliest countries in Southeast Asia. Cambodians appreciate the tourists who come to visit this Kingdom of wonder, and as a tourist, you'll surely meet many good people and be able to find your companions one who truly understand you. It's easy to not just find friends, but find friends who will help you with everything from ordering food to guiding you to remote temples. This is made even easier by the fact that most of the Cambodians speak some English; therefore, it'll be easy to communicate with tourists and locals.
No worries, whether it's your first time or many time traveling to Cambodia, the locals are ready to help and guide you anytime and anywhere as what you are needed or when you're seeking for help. They all help everyone out. For those who are considered moving to Cambodia, I would recommend you living in this country because it's either safe and surrounded by friendly and helpful people.
When you're being lost somewhere like in the market, or you can't find the way back home or back to your place, you can go and ask the locals who seem to be able to know your location from what you're explain to them, and without doubt, they will guide and assist you to find your right location. They won't refuse and avoid you when you urgently need help; they sincerely help you out without asking anything back. As one of Cambodian people, I have experienced this when I had lost in some part of the city. Cambodians are all nice and good to be friends with.
When you are a foreigner and having a conflict with locals, Cambodian people won't use the violent in the disagreement, but instead they will inquire into the cause of the conflict first, and then compromise with each other without using any fight or threatening other people. We encourage people not to use violent while having a conflict, and that's what Cambodians mostly solve the problems as well as conflicts.
Having no ideas, what to eat in Cambodia? Not to worry, Cambodians will guide you and tell you the common foods or side dishes that they usually enjoy, and they also recommend you to try it as well. Be noticed that, you'll find it easy to communicate with Cambodians people when it comes to foods or help.
When it comes to vendors in the markets or at the destination places, students, or national tourists that you accidentally meet, all of them will slightly smile at you to show their respect and greet towards you. They sometimes even say Hello or Sur Sdey in Khmer to show the warm welcome and friendliness as well. Cambodian people even do Sompeah by putting their both hands together just to show respect, affectionate greeting, and friendly manners too as it's normal and traditional way of showing warm greeting in Cambodia.
Is Cambodia good place to live?
Cambodia has often been overshadowed as a tourist destination. Recently, however, the number of foreigners working, volunteering, and living in Cambodia has been growing, Cambodia has come to be seen as a good option for those who want to live abroad.
This country has many charms: a tropical climate, numerous pristine beaches, and a rich historical culture. The impoverished country's current state of recovery from years of war has left it with a beautiful, yet troubled, soul. Still, Cambodia's natural beauty and rich history make it a worthwhile destination for many.
Cambodia is a wonderful place to live, why? Well, Cambodia is the ultimate paradise for backpackers and other budget travelers, thanks to its cheap prices, weather condition, and many more. The following information below will outline why Cambodia is a good place to live.
1. Weather condition in Cambodia
Cambodia has the tropical monsoon climate with the warm temperature throughout the year. The rainy season starts from May to November, and the dry season starts from the late of November to April. Living in Cambodia, you can enjoy the warm temperature for a whole year, and you'll see the greenery plants everywhere over the year. Starting your live in Cambodia is definitely the best site to live with many historical places and stunning landscape along the way. When it reaches the late of November until the early of January, you'll feel the cool weather with minimum temperature of 18ºc that Cambodia has ever experienced. There has no snow in this Kingdom of country, but if you try to live in this country, you'll surely love to spend your life there for the rest of your life.
2. Rich culture and beautiful scenery
Because Cambodia has the tropical climate, so people who live there will be able to see the green scenery every year. If you're kind of a person who addicted to historical places and greenery, Cambodia is already the best site for you to live. If you want to go to the beaches during the cool weather, Cambodia should be one of your best destinations to live that you shouldn't be missed because during the cool season, you can still be able to see the lively sea not the frozen sea that freezes on the surface of the sea, and you can also swim at the beaches as well with the minimum temperature about 18ºc during the cool weather.
3. Friendly neighbors
Cambodian people all are nice and friendly towards everyone, not even their family, friends, but they are approachable and generous to outsiders as well like international or national tourists. Not to mention, they are very helpful when someone else is suffering, and they even donate the money, time, and stuff, to help the one who is having a hardship and discomfort.
4. Best place for shopping
As one of Cambodian people, I've experienced that everything is cheap and affordable here. If you're a shopping lover, and want to find things that are affordable and cheap, Cambodia would be your first choice that you should think of. Everything in this country is inexpensive including travel accommodations, clothes, foods, and many more. You won't feel regret living in Cambodia, plus with the healthy food, and good quality of stuff.
Is Cambodian food similar to Thai?
It can be hard to tell whether a dish is Cambodian food or Thai food because side dishes of these two country aren't quite different from each other. You might think Khmer foods and Thai foods are exactly the same because these two countries are neighbors and the menu of the foods are also the same. But if you explore these two countries deeper, you might see a little difference between Cambodian foods and Thai foods. Quickly read these article below and get to know more about the similarity and differences of foods between Cambodia and Thailand.
There are only a few side dishes that make Thai foods and Khmer foods similar to each other:
1. Tum Yum Kung
Tom Yum Kung is a type of hot and sour spicy soup. Both Cambodian and Thai people eat this type of soup, and the process of making this soup is also the same, but the only differences of this soup is the taste. We, Cambodian, prefer less spicy soup with thick taste and well-balanced which means Tom Yum soup should contain of 4 tastes such as salty, sweet, sour taste from the tamarind or lemons, less spicy, While Thai people prefer to add more chilies or pepper in the soup to make it spicier.
2. Papaya salad
This type of salad is the most favorite food for both countries, and in Khmer we call this type of dishes as Bok Lhong. Thai people prefer food spicier than Cambodian people. The amount of chilies that people add in the foods is one of the differences between these two countries as you already know, yet one more difference is that people in Cambodia use shrimp paste with salty crab in making papaya salad while people in Thailand prefer to add fish sauce or prohok sauce in papaya salad, and other ingredients such as vegetable, sugar, chilies, and many more are included in same as Thai papaya salad recipe as well. Even they both have one thing difference, but papaya salad remains the most delicious food.
3. Raw shrimp and spicy marinate crabs
Both country enjoy to eat raw seafood such as shrimps and spicy marinate crabs. It's one of the most popular food in Cambodia as well as in Thailand. People usually enjoy this with a bowl of rice or just only eat with a glass of beer. The spicy level of this dishes are the same for both Cambodia and Thailand.
Besides these foods, Cambodian cuisines are very unique from Thai foods because in Cambodia people tend to use prohok and lemongrass paste as the main ingredients in making traditional foods while in Thailand they tend to use chilies as the main ingredients.
Why is Sihanoukville very popular?
Sihanoukville is known as a big city in Cambodia. Many tourists are known that Sihanouk is a city full of beach, Island, restaurant, resort, nature, culture, and best relaxing place for whom want to run out of the busyness capital city. Sihanoukville is popular for its natural beauty and largely untouched beaches. With plenty to see and do, Sihanoukville is one of the greatest cities to explore when in Cambodia. Let see why it is the popular in Sihanouk:
1. Shopping
With a bounty of handcrafted goods and local food to purchase, Sihanoukville provides many a 'shopportunity'. As a beach resort, it offers lots of places selling beachwear, sarongs, and shoes. Visitors can also expect a wide variety of jewelry and souvenir shops. There are also slightly more expensive branded shops around in which to buy clothing. Starfish Bakery and Café has its own little gift shop where they sell sustainable bags made from recycled sacks. The gems, however, are to be found in the markets. Sihanoukville's night market and Otres village's weekend market are ones to take note of. Join the local culture of buying bags of fresh produce and enjoy a picnic of dragon fruit and lychees down on the shoreline.
2. Water Sports
Sihanoukville is an ideal location for a number of water sports activities and adventures, essential accomplishments for any beach holiday. Submerge yourself in the ocean and get a good view of the coral and sea creatures lurking in Sihanoukville's depths on a scuba diving trip. If diving is too extreme, many places on the beach offer snorkeling trips, fun for having a flipper around. Other water sports activities include kayaking, windsurfing, and for a slightly higher price, you can practice kitesurfing. All of these activities make for a thrilling day by the sea.
3. Beaches
Sihanoukville earns its reputation as Cambodia's premier seaside resort with an array of beaches to wonder along. The beaches boast white powdery sand, stunning views of the Gulf of Thailand and a calm atmosphere. A few of the famous beaches to explore include Otres, Ochheuteal and Serendipity, each of which has its own collection of beach bars for that necessary mid-afternoon cocktail.
What is it like to live in Cambodia?
Living in Cambodia is like living in a place where you can take your mind off with the unexpected view, and surrounded by wonderful people. The weather is great, food is tasty, and it's way cheaper than back home. Cambodia is a relatively laid back place and doesn't have a lot of the stresses of the west. Traffic is pretty light, and it's quite easy to get around. You can travel the entire country for a very low price and there's lots to see and do. The transportation system is growing and there are plenty of flights to other parts of South East Asia. People in Cambodia are generally friendly, and there exist few problems with the government.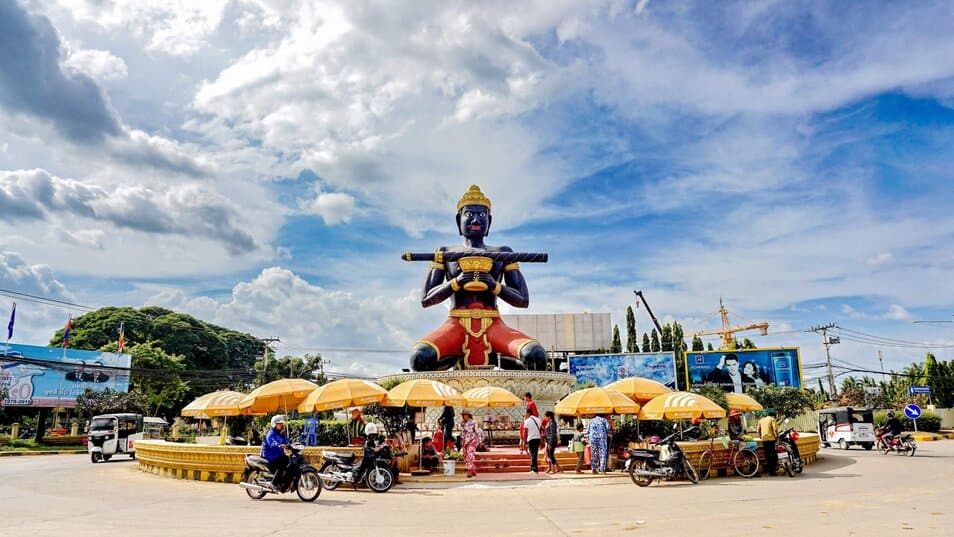 1. A stress released place
All parts of Cambodia are the best site for you to take your mind off from nerve-racking stuff. If you're stressed about life, you can relax yourself at the beaches at Sihanoukville since the view there is stunning, the shadow of the sunset reflect on the surface of the sea make it like a wallpaper, and the wind is fresh which is quite healthy to your health. The sound of the waves make you feel calm and soften your heart. With the white soft sand, you'll feel at ease, and better.
2. Best place to make close friends
If you think you have on one to rely on, you can make friends with Cambodian people. They are ready to help you anytime, and if you're close to Cambodian people, you can talk about anything with them, they will give advice and comfort you when you feel disappointed and downhearted. Don't feel embarrassed to talk about what happened in life, Cambodian people will be there for you anytime when you need.
3. Cheap place for traveling, shopping, and food
Don't worry about the travel accommodation. It's very cheap in Cambodia, and you can travel to other provinces with a very low price with comfortable buses.
Shopping in all areas in Cambodia is cheap since all stuff is quite affordable with high quality. It's possible to live a comfortable life in Cambodia. When it comes to food, not to mention, food in this country is healthy, and taste unique different from neighboring countries. It's cheap, and you can it as much as you want.
4. Rich culture
Culture in Cambodia is very unbelievable. You get to see and acknowledge more about history. From the great temple of Angkor Wat, many other prestigious ancient temples, to Khmer traditional dance, music, arts of Cambodia are always gripping journey. Cambodian are proud to be born in this Kingdom of wonder, and they love to share their culture and heritage.
What is the most famous food in Cambodia?
When people think of Cambodia, they tend to think of its beautiful temples, or its violent history. And yet, ask any Cambodian for what they think of their own country, and you'll get an answer along the lines of "the most famous food in Cambodia". There are some traditional foods of Cambodia, instant food and some Westernized versions, and they are become popular.
1. Western food
When it comes to fast food or western food, many people think of pizza, burger, and many more. Some of Cambodian people don't have enough time to cook, so they chiefly dine out, or order food to eat at home. Eating fast food is a lots convenient that eating traditional food since fast food is easy to get done unlike traditional food. Making traditional food takes long time, and it's quite hard to get done. Fast food tastes amazing as it's combined from cheese, bread, and some special ingredient that make it more appetizing, unique, and delicious. Even though fast food is easy to prepare, but eating this is not really good for health.
2. Khmer Traditional food
Traditional food takes quite long time to get done, but it's worth the time. Eating traditional food in Cambodia is healthy as the ingredients are principally combined with organic vegetable, the taste is well-balance which mean it's not too salty, and sweet. Also, the calories of traditional food are quite lower than the fast food one, so with this reason eating traditional food is healthier than eating fast food.
There are some of Khmer traditional cuisine, which are very famous, common, and healthy to eat. One of the most common recipe is called amok trey kiet, in which you wrap the critter in a banana leaf and fry it, but there are also amok chrolie and amok truk, which both are made by wrapping the scorpion in the leaf and steaming it. It's very famous in Cambodia, and well-known by many people including foreigners and locals.
3. Instant food
Instant food is also very famous in Cambodia. Instant food is the best when people don't have much time to arrange the food, or when they are at workplace or somewhere else where don't have space or enough equipment, ingredient to cook. Instant food is already cooked, so when you eat, you can warm it up, or put it in the microwave, then it's done. You can also enjoy without warming or putting in the microwave as well.
What is there to do in Kampot and Kep?
The beach in Kep/Kampot is a nice place to relax and run away from a business city. After arriving, tourists usually spend their holiday on the beach especially enjoy cooking with fresh and cheap seafood that Khmer people do their own business and fished by their own. If you're looking for some sundowners, head up to the Beach House to have a few cocktails around the pool or overlooking the beach and camping tent yes it is your right way to Kep/Kampot.
Hiking in the forests of Kep National Park. Kep is such a small town you might be surprised to realize it's also one of the places you can hike without hiring a guide in Cambodia. Kep National Park encompasses 53 square kilometers on the small mountain that rises out of the center of town.  An easy day trip from Kampot, Bokor National Park Cambodia is easily one of the best Kampot attractions.
Take a Trip to Rabbit Island. If you've grown bored of Kep's hiking, eating, and exploring, perhaps it's time to hop on a ferry to nearby Rabbit Island, called Koh Tonsay in Khmer. Rabbit Island is unlike most other tropical islands in Southeast Asia, in that it is still truly off the tourist path. Beside Rabbit Island also included Koh Pos, Kos Svay, just take only 30 minutes from Rabbit Island by TukTuk or Moto, if you interested in bicycling you can rent a bicycle that not much expensive.
Related: Is Kampot worth for visiting?
Bokor Hill Station in Preah Monivong National Park, Cambodia was built in the 1920s by French colonists wanting to escape the heat and humidity of the capital Phnom Penh. If you wish to see the oldest building with history and full of nature Bokor is your choice. Don't worry about eating-on the top of mountain also provides restaurant, drinks, especially with a nice scenery and cloud you can take with a beautiful picture. You can still enjoy the beautiful mountain views on the way up though. You can visit by motorbike, tuk-tuk, or take a tour. The views are wonderful. The history and houses of the royal family is interesting, including one for the King's mistress. The temple, old and new is the best part of the visit, along with the Christain church built a century ago. Limited food so bring a picnic. Casino is not worth your time.
Is Cambodia good for shopping?
Cambodia is a country that has everything to the eyes of a shopper. The country is still in its beginning years as a tourist destination and a shopping place. It still has not been commercialized in many aspects like other countries.
This kingdom of wonder is a country that prides itself on selling different art and handcrafts that is made by the locals, and where is a mixture of many cultures that have settled in the area. With huge sales tax exemptions, Cambodia's prices for most items cost 10 – 30% less than those in neighboring countries.
Cambodian people are considerably to be good at stylist and fashion. Both men and women always wear something that make them look more attractive and stunning. Though Cambodia is the least developed country, but there are many branding companies invested in, which is very good for a shopping destination. With this investment, Cambodia is not only a site for traveling destination, but it's actually best for shopping since the prices for items cost below 30% than other those countries.
When it comes to stuff at local markets, everything is top quality including souvenir, and fabric of clothes as many of them are handmade and produced from the factory. Clothes at local market are cheap than the branding one since the branding clothes are known by many people, yet the factory clothes are worn by many Cambodian people.
Cambodia is being known as a country good for shopping since many things are cheap. If you're looking for gift when visiting in Cambodia, I suggest to buy the handmade souvenir. As many of the handmade souvenirs are made by people, so they put all their passion and strength into it; therefore, it's very meaningful to you or to the one that you are given the gift.
Since many tourists come to visit Cambodia because of the well-known of Angkor Wat, stunning beaches, and best places for relaxing destination, but this country is also great for shopping, so they should at least by a handmade souvenir and bring back to their country. Value it well as it's handmade, and when you look at the gift, it's probably reminded you of Cambodia where is a country that you've been to.
If you're wondering of where you can do shopping in Cambodia, below are some the best places for shopping:
Shopping in Phnom Penh
Shopping in Siem Reap
Pub Street: Pub street is very famous in Siem Reap province. Many traditional clothes are sold there, and you can shop at night if you want to go to Pub Street. Click on the link for Pub Street location: https://goo.gl/maps/fMgpRqvbzKiyRTvy7
Shopping in Sihanoukville
Otres Market: when you have a trip to Sihanoukville, don't forget to visit Otres Market since it's best known as a great place for shopping. Link provided is the location of this market: https://goo.gl/maps/srttqCXqjYccRZJNA
What is the national dish in Cambodia?
Cambodia is considered to be one of the best country for healthy and unique food. Since most people prefer to eat fast food as it's more convenient, and spend effortless in making food, so they don't normally try and eat either homemade or traditional food. So just in case, you miss the traditional food and want to eat the most common and national dish in Cambodia, the list below will brief you some of Cambodian national cuisine.
1. Creamy Prohok dip
Creamy Prohok dip also known as Prohok Ktis is one of the best national dish among other Khmer food. The texture is quite creamy since it's combined from coconut cream, prohok, palm sugar, and so on. It tastes good when eating with a bowl of rice, and dipping with all types of fresh vegetable. You'll smell the aroma of prohok when putting it in your mouth, and it'll even melt immediately as it's mixed until it becomes small creamy pieces. Cambodian people occasionally make this in special event such as in Pchum Ben days or when celebrating a ceremony.
Related: Is Cambodian food similar to Thai?
2. Lemongrass sour soup
This soup is perfectly fit in the cold weather and rainy tropical days. This can be made from any types of meat such as fish, beef, chicken, and pork. Adding the vegetable such as water lily, watercress, and papaya are best way to make the soup more appetizing. Don't forget to add a bit of chilies or banana pepper in the soup to make it spicier and appealing, and also prepare a small bowl of fish sauce with crash garlic and chili, just in case the soup is a bit blend so that you can adjust to your own favorite. Cambodian people always enjoy this cuisine anytime they want.
3. Khmer noodle
Khmer noodle is also being called as Nom ban chok by Cambodian people. You may think this dish is simple, but It's beyond your imagination. This food is combined from the noodle which is pounded out of rice, soup with lemongrass paste which is topped with fish based. Fresh vegetable such as cucumber, banana flower, cabbage is also being served in this type of national food. Chili is the optional, but I suggest to add chili in the Nom Banh Chok to make it more delicious. You won't get enough of it when eating this food, and you also can serve this as your breakfast, lunch, and dinner.
Related: Expat Ultimate Guide: Living in Cambodia
4. Fragrant vegetable soup
Fragrant vegetable soup is being combined from many kinds of vegetable such as eggplant, papaya, pumpkin, and so on. You can add meat to make it taste good. This fragrant soup is also known as Som Lor Korko or Som Lor Pro her. It's taste amazing which is very unique with the well-balanced of ingredient, and mixed of many types of fresh organic vegetable. You can eat this with a bowl of rice or eat it alone. Add more chilies to make it more aromatic, attractive, and delicious.
Sihanoukville or Kampong Som is known as the coastal city which is considered as one of the best tourism sites in Cambodia. It is popular by the very beautiful landscape, the brand new restaurants and foods, the hotel serving where you can spend your unforgettable memories with your favorite peoples. Beside, there is still something to be concerned about when you decide to make a new journey in an unknown place where you need to be very careful of yourself and your belongs.
Related: Why is Sihanoukville very popular?
A word of warning, Is Sihanoukville safe? Well, violence, rapes, theft and muggings always happens more frequently, not only in Sihanouk but also in others developed places, so you must be careful on finding the place where you can live with peace and comfortable atmosphere, the food that suit your taste. In other hand, the nightlife in Sihanouk is more interesting, Otres Market is the best place to find some live music and festival atmosphere with a variety of international food stalls, souvenir shops and different musicians and performers, but it's dangerous for girls to go alone. Actually, since there are plenty of business has been run, the city is now a mess of construction, pollution, and casinos. It's not very appealing except for a small strip of land by the dock. BUT the islands off the coast are still backpacker / budget traveler paradise so Sihanoukville is still good for a night as you transit to/from the islands.
Related: Is Siem Reap safe for tourists?
Futhermore, Sihanoukville is a pretty safe place to backpack and travel. Violent attacks are super rare. Petty theft is the most common type of crime here, and it's unfortunately rather frequent on the beaches. Ochheuteal Beach is particularly a hotspot for thieves. You'll be distracted by a child (or sometimes an adult) while another person takes your valuables from your towel. Leave your most important valuables in your safety deposit box or locker! Also hold onto your bag tightly when you're riding on a motorbike taxi. Keep your bag in front of you so other drivers can't snatch it. The road between Otres and Sihanoukville is especially risky. Overall, locals are really nice and helpful and you're unlikely to get into trouble. The people who do tend to get into trouble are usually because they are inolved with drugs or sex tourism. Stay away from that stuff and you'll be fine. The most important piece of advice I can offer is to purchase good travel insurance. Travel insurance will protect you against illness, injury, theft, and cancellations. It's comprehensive protection in case anything goes wrong. I never go on a trip without it as I've had to use it many times in the past.
Can foreigners work in Cambodia?
When a foreigner wants to work in Cambodia, they must first register with the Ministry of Labor and Social Affairs. They will need to bring the following with them when registering: A Cambodian ID card or passport, a receipt showing payment of the $2 fee, and a copy of their employment contract. If a foreigner is working in the country on a tourist visa, they do not need to register. However, if they want to work in Cambodia for more than 90 days, they must apply for a business visa, which takes 15 business days to process.
Related: How can I get a valid Work Permit in Cambodia?
For those who have accepted an employment offer from Cambodia, and are being sent out to Cambodia for business purposes by an organization can apply for the business visa.
To apply for the business visa, you are required to bring and complete the following stuff below:
Visa application form: you can download this form from the embassy of Cambodia website. In the application, you're required to fill out your personal information including your name, date of birth, your email address, your purposes, and so on. You'll also need to sign the visa application form as well. Don't forget your passport photo to bring along with.
Passport
Supporting document: you need to bring the document which is the letter from the sending company, or the invitation letter that are being invited from the company in Cambodia. Don't forget a copy of Cambodian visa and a copy of passport.
Health insurance
Visa fee: the visa fee costs you around $35. No personal check, credit card, or cash, this only accept from the cashier's check, and you need to pay at the Embassy of Cambodia.
Processing time: the process only takes 3 to 5 working days.
After you complete all the requirements, you can submit your application form by email where the embassy ask you to do so. More information, you can check out the Embassy of Cambodia website to know more detail.
Related: 5 ways for a foreigner to obtain Cambodian Citizenship
During this Covid-19 pandemic, the process of applying for the business visa will be restricted. When you enter Cambodia, you must bring the certificate of the negative test result of Covide-19 by the medical facility around 72 hours. And you also need to deposit cash upon arrival as well. The business visa can also be extended until 12 months.
If there is no problem after completing all the requirements, the ministry will recheck it, and will let you know if there is lack of information in your application.  If you get approved by the ministry, then you can work in Cambodia legally.
How to work as English Teachers in Cambodia?
Cambodia is a country that also focuses on education for the young generation to gain a bright future. However, some parts of the country remain the low quality of English education toward youths. Not so many youths or people in a rural or remote area can speak English. This indicates that Cambodia is in the low profile of English daily usage. According to the recent EF English Proficiency Index (EF EPI) 2020, Cambodia is in the number 84th of out 100 countries in the world that can speak English better.
Speaking of which, this is an opportunity for foreigners who would like to help or involve themselves in the educational section by just teaching English to Cambodians. For foreigners, there are many kinds of available opportunities. They can teach only one or two semesters in some schools during their vocational trip or they can come to live and teach in Cambodia instantly.
Related: Teach English In Cambodia
This chance can be considered to be a great benefit for the countries that English is a native language. Since they do not need to have a great credential to work in the field of English somehow. As we know, English literacy consists of three important sections, including speaking, writing, and listening. So, at least case, foreigners can work as a teacher who teach Cambodian to speak English.
Apart from this, foreigners, have come to Cambodia or other countries, are not only focus on making a living. However, they would like to give with no return. They volunteer to work as a teacher just only to help or gain experience from Cambodia. There were many young foreigners who come to teach in Cambodia for receiving their experiences and along with that is to help Cambodian children, especially.
These are the choices that you, as foreigners, can make in order to live in Cambodia. To conclude, you can work as a teacher in some workplaces in Cambodia, or working as a volunteer just to gain experience or just to help young Cambodians. However, the best choice, I would suggest is that you should be both, but depends on your personal time. Since you have to spend some time with your own life as well. Though, this is a great help for Cambodians and especially for Cambodian youths. Either of your choices is grateful for us, as a Cambodia.
What is the most common job in Cambodia?
When it comes to Cambodia, you may wonder what are the common job that people work in Cambodia. Well, there are plenty of jobs that need people to work with, but some of the jobs are only the most preferable that are being selected by workers. Below are the jobs list that people principally work.
1. Teacher
Being a teacher in Cambodia is kind of the customary work that are being chosen by people. That kind of occupation is easy to find as many public and private schools needs many teachers or lecturers to teach the students. If you are an expert of languages, you can work as a foreigner teacher. And if you are a foreigner teacher, you'll get acceptable or higher salary. Equivalently, this kind of job is also popular for adults, and for those college students who are in their freshman, sophomore year, or junior year, they all tend to work as a part-time teacher, for to get experience and find the financial to support the school fee.
Related: Is it easy to get a job in Cambodia?
2. Banker or Accountant
This kind of occupation is also the most common job in Cambodia. For students who are graduating from high school, they will pursue their academic journey in the field of finance, banking, accounting, business, or other related fields. Majoring in those fields, students tend to easily find a job after graduating from college because there are many investment or banks to invest in Cambodia, so many of those companies will hire employees who are majoring in those fields.
3. Barista
Many college students have a tendency to be a barista. This kind of job is also being popular among other jobs, and many university students are being worked as a barista. For this reason, it's easy to find this job, and it's mostly a part time job, so students can work as a part-timer to find more experience and money as well. This kind of occupation will definitely one of the most common jobs that people work in Cambodia.
Related: How to get a job in Cambodia?
4. Businessman or Businesswoman
Being a business either men or women is also a job in Cambodia. This is a very common one as Cambodian people are likely to own a business including all types of business such as online selling, export and import goods, investment in a company, and many more. Some people are also working in a company and doing their business at the same time. Not to mention, doing business can earn much money than working in a company, and for that reason, most people in Cambodia at least have a small business to run. Doing a business is also a job because for those who run a business, they have to organize, lead, manage, and control. Being a businessmen or women have the duties to protect​​ the business, and carefully calculate the expenses in the company.
There are plenty of jobs in Cambodia, and all of them will guide and teach you to acknowledge more, gain new experience, and also help you become more sociable. As long as you're capable with it, love, and bear with it, you'll unquestionably become the outstanding worker, and get so many loved by your boss or co-workers.
Why is Sihanoukville very popular?
Sihanoukville is known as a big city in Cambodia. Many tourists are known that Sihanouk is a city full of beach, Island, restaurant, resort, nature, culture, and best relaxing place for whom want to run out of the busyness capital city. Sihanoukville is popular for its natural beauty and largely untouched beaches. With plenty to see and do, Sihanoukville is one of the greatest cities to explore when in Cambodia. Let see why it is the popular in Sihanouk:
1. Shopping
With a bounty of handcrafted goods and local food to purchase, Sihanoukville provides many a 'shopportunity'. As a beach resort, it offers lots of places selling beachwear, sarongs, and shoes. Visitors can also expect a wide variety of jewelry and souvenir shops. There are also slightly more expensive branded shops around in which to buy clothing. Starfish Bakery and Café has its own little gift shop where they sell sustainable bags made from recycled sacks. The gems, however, are to be found in the markets. Sihanoukville's night market and Otres village's weekend market are ones to take note of. Join the local culture of buying bags of fresh produce and enjoy a picnic of dragon fruit and lychees down on the shoreline.
Related: Where should I live in Cambodia?
2. Water Sports
Sihanoukville is an ideal location for a number of water sports activities and adventures, essential accomplishments for any beach holiday. Submerge yourself in the ocean and get a good view of the coral and sea creatures lurking in Sihanoukville's depths on a scuba diving trip. If diving is too extreme, many places on the beach offer snorkeling trips, fun for having a flipper around. Other water sports activities include kayaking, windsurfing, and for a slightly higher price, you can practice kitesurfing. All of these activities make for a thrilling day by the sea.
3. Beaches
Sihanoukville earns its reputation as Cambodia's premier seaside resort with an array of beaches to wonder along. The beaches boast white powdery sand, stunning views of the Gulf of Thailand and a calm atmosphere. A few of the famous beaches to explore include Otres, Ochheuteal and Serendipity, each of which has its own collection of beach bars for that necessary mid-afternoon cocktail.
What is the Most Scam in Cambodia?
Scammers are popular in Cambodia, so be aware of what scams and suspicious operators are up to before you travel there. When traveling in Southeast Asia, be on the lookout for something that seems too good to be true, as there are plenty of scams waiting to catch unsuspecting visitors who aren't paying attention. Here are Tuk-tuk scams in Cambodia we need to know before going to Cambodia.
The tuk-tuk is a three-wheeled vehicle that looks like a bicycle with a carriage attached to the rear. These vehicles are often propelled by an engine, and other times by pedal power alone. They are the most popular mode of transportation in towns and cities. They're also a common mode of transportation at Angkor Wat.
Related: What should you not wear in Cambodia?
As a tourist, you will sometimes come across a driver who is paid to bring you to a specific shop/temple/restaurant/hotel/bar. You can find yourself thousands of miles from your intended destination, under pressure to purchase, eat, or stay. That's not to suggest you shouldn't pursue this conventional Asian mode of transportation if you really want to but do so safely, either by sharing with a fellow tourist or traveling partner you know or by taking a ride along a path you'll recognize. That way, if you get off the main road, you'll be able to spot the danger signs. Otherwise, relax and enjoy the detour, but be cautious of falling for the hoax.
Some tips to avoid scams
Since English is the most widely spoken language on the planet, you'll find that most people who meet you will immediately begin speaking to you in English. It's easy to respond with a retort, particularly if you're asked a question. But beware: criminals and scam artists are well aware of this, and conversing with one of them is tantamount to giving a shortcut to your bank card.
Once a scammer feels they've made a bond with you, they're unlikely to desert you, and if one scammer shows interest, others may follow. To prevent this situation, don't answer any questions that might lead to more problems. For example, if you're asked where you're staying in Phnom Penh, it's probably not a good idea to tell your hotel and room amount.
Related: Is Cambodia expensive for traveling?
Pretend you don't know English if you think you're being conned and can keep a straight face. It's crazy how easily petty criminals would desert you if they can't interact with you.